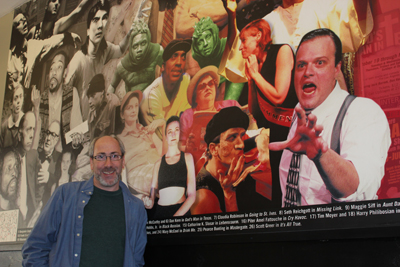 "Seth Rozin, 47, InterAct's producing artistic director, standing in the Adrienne Theater next to a collage of stills from 15 years worth of the company's plays. (Josh Fernandez / Philly.com)"
Check out this article where InterAct's Artistic Director, Seth Rozin, reflects on his 24 years as a theatre professional.

"Almost everyone who goes into theater starts out on stage at some point," Rozin, 47, said. "I was active in theater – acting, directing, writing – from the end of my elementary school days, all the way through college. It hooks you and you have to do it...

To date, InterAct has presented 78 main stage productions, including 32 world premieres, more than 30 regional premieres and two premieres in the United States. Rozin, the company's producing artistic director, was named "Best Director," by the Philadelphia Inquirer twice for the premiere of the 1993 play 6221 and Lebensraum. (Inquirer Theater Critic Howard Shapiro's reviews of Rozin's recently directed play,The How and the Why and the musical he wrote, A Passing Wind, can be found here and here.)"
Read more about Rozin's journey here!